GAS & GLASS by Merideth Grierson
Take a tour of San Francisco in the 1980s with Merideth Grierson's remarkable portfolio of the city's best neon signs. This portfolio has always wanted to be a book, now it is a film! Merideth has graciously shared it with the Neon Speaks audience. The song "Otra Noche en La Viruta" is used by permission from the wonderful band Otros Aires.
TOURS, TREKS, & MAPS
Spend an evening under the neon glow via an online neon tour, or take a self-guided day's adventure to discover vintage neon signs hidden in plain site. And it's easy to become a neon preservationist just by photographing the vintage signs on your travels and posting to #neonspeaks.
Listed below are ongoing tours, maps, and treks created by friends and founders of Neon Speaks. Get involved by taking a tour or a trek, it all helps support neon preservation efforts. Join the growing national movement to appreciate and preserve historic neon!
OAKLAND MAPS/NEON TREKS
Epic treks to explore Oakland's neon heritage
Explore this collections of neon maps compiled by Oakland urban researchers and neon historians. Each map outlines a 4-mile trek that you can walk, bike, or drive. Any way you roll, you can spend days discovering Oakland's neon landscape.
ALAMEDA TOUR
Tickets/Times
From the grandeur of the Alameda Theater to the nearly invisible Pop Inn, downtown Alameda boasts a fine collection of vintage neon. This tour was developed by Alameda local, Devi L. Dahl, and winds through a quiet bungalow neighborhood and commercial corridors of Alameda. Design insights and historical backstories included. This Sunday evening tour was a popular sold-out feature of Neon Speaks 2019.
PORTLAND NEON MAP & TOURS
Order Portland Neon Map
This folded map of the very best neon signs in Portland, Oregon is also a keepsake poster featuring a selection of Portland's most memorable signs. Limited edition, in beautiful black and white. Created by Neon Speaks co-producer Kate Widdows.
Tickets/Times for Portland Neon Walking Tour
When in Portland, don't miss Kate's tour! See the city's most imaginative, historic neon gems. Steeped in architectural significance and a playful, pioneering spirit, these glowing beauties create a magical nightscape.
NORTH BEACH SELF-GUIDED MAP
Take your friends on a self-guided neon tour with this glossy souvenir map from Neon Speaks. San Francisco's North Beach district has an impressive array of classic watering holes, bakeries, cafés, and restaurants in a neighborhood that is famous for vintage neon and bohemian history. Design by Neon Speaks co-producer, Kate Widdows.
$3 donation to Neon Speaks for North Beach Self-Guided Neon Tour Map.
Includes first class postage in continental US.
SF NEON TOURS
Tickets/Times
Twilight guided tours with authors of San Francisco Neon: Survivors and Lost Icons, Al Barna and Randall Ann Homan. Book early, tour groups are small and often sell out a week in advance. Take all five neon tours offered throughout the year: Chinatown, Tender-Nob, Cow Hollow, Downtown, and Market-Mission-Castro.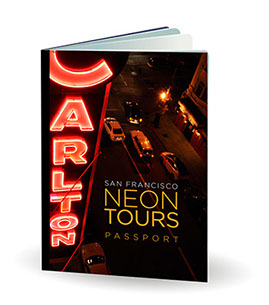 Get a gift certificate passport booklet for a friend or yourself. Quick delivery of this handsome 4-tour passport booklet for 4 SF Neon Tours for $100. Contact Us for more information or to purchase online.
Small Print: Requests for cancellation with full refund can be made 24 hours prior to tour start time for SF Neon tours, we will do our best to reschedule you if we can't resell your ticket. We reserve the right to change/cancel the tour due to obstructions, stormy weather, or insufficient reservations. Canceled tours will be fully refunded. All participants agree to assume 100% responsibility for their own safety, conduct, and well-being, and recognize that possible hazards exist while participating in outdoor (or any other) activities; and agree to participate solely at their own risk. If you join this group, and if you click the reserve button, and/or attend any San Francisco Neon or Neon Speaks events; it shall be conclusively presumed you understand and agree to this policy.